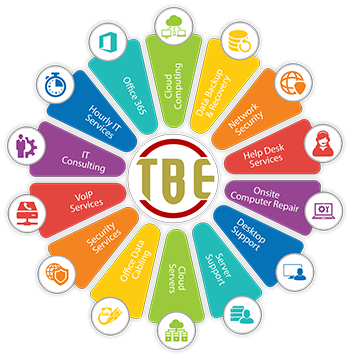 Gone are the days when you needed someone sitting in an office all day, minding your computer systems. We can manage your network remotely or onsite; seeing and fixing problems before they wreak havoc. Our IT Support Services include:
24x7 Help Desk – Our US-based help desk technicians are available around the clock
Microsoft 365 for Business – Are you looking for Office 365 or other cloud services?
Network Upgrades – If your network is running slower than it should it's probable time for an upgrade
Offsite Backups/Disaster Recovery – The best solution is to have your data stored onsite and offsite
IT Compliance – We offer HIPAA and PCI compliance to keep your organization compliant
Onsite IT Support – We can come onsite on an hourly basis to assist you in your time of need
IT Consulting – When you have questions on technology for your company give us a call
Office Move – Let us help you get your network setup in your new office space
Remote Work Solutions – Do you have employees working from home and need assistance?
Website Design Services – We can build you a custom web experience in no time
Business Phone Systems – VoIP phones are more flexible and cheaper than old analog phones
Co-Managed IT Services – We can work with your in-house IT team to better assist your company
When you need managed IT services in Frisco, Allen, Plano and McKinney, TX to maintain peak operation of  your IT network, consider us here at The Brass Effect. We'll manage all of your IT services for a flat-rate fee so you can focus your efforts on spurring your revenues to grow. Let us give you the peace of mind you deserve with your small business today with The Brass Effect's managed services.
When you sign up with our Managed IT Services, here are some of the substantial benefits:
Tailored Managed IT Services – We know that every businesses' needs are completely different from the next, so we offer 100% custom managed IT services for any business size or budget.
Predictable costs 24/7 – The Brass Effect doesn't charge you more when your network is down or a server fails. Our flat-rate fee covers all of that whenever you need it done.
Ramped up productivity – Never stress again about network failures, as our managed IT services include round-the-clock monitoring of your computers and network to help prevent problems before they happen.
We are always available – Part of what makes our managed IT services so exceptional is that we are always available, regardless of time or holiday.
You can rest easy when you put your IT support needs in our hands. Contact us today in Frisco, Plano, or McKinney for more information.