Structured Cabling Company in Frisco
Certified Structured Cabling Company 
Maximize Interoperability — Minimize Future Changes
The Brass Effect installs high-performance structured cabling systems with a goal to maximize interoperability and minimize the need for future changes.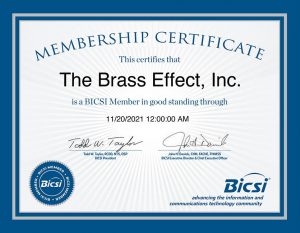 Schedule A Free Consultation
Our Structured Cabling Process
We offer a free onsite consultation (walkthrough)

We work together with our clients to establish and/or confirm the scope of work for the project

We develop a project plan based on specifications, design, budget and timeline for project completion

We install cabling and/or fiber optics based on industry standards and codes to ensure that we meet requirements based on the AHJ

We test and certify each cable with a Fluke DSX-5000 Certifier

We offer a 25 year warranty (through Panduit) for copper installs

We stand behind all our work 
We Design, Build and Service Structured Cabling Systems
There are plenty of companies out there that install data cabling, what makes us different is that we're certified experts that design, build and service structured cabling systems. A professionally designed structured cabling system (SCS) is defined as the complete collective configuration of cabling and associated hardware that has been installed at a given site to provide a comprehensive information technology system (ITS) infrastructure. This infrastructure is intended to serve a wide range of uses and should not be device or application dependent.
Structured cabling systems are further defined in terms of ownership. The SCS begins at the point where the service provider's (SP's) equipment terminates. This point is known as the point of demarcation (demarc) or network interface device (NID).
Space Design
Applying Standards in Telecommunications Spaces Design. Ideally, telecommunications spaces are planned early in the building design stage. Spaces should be laid out in such a way that current cabling needs are met and future requirements become a natural extension of your original build.
Pathway Design
We install horizontal distribution systems that are used to distribute and support horizontal cable and connecting hardware. It can be the single most difficult aspect of the telecommunications pathway. However, the payoffs of a good horizontal design can accrue for the entire life span of the building.
Work Area Design
It is important to properly design the work area telecommunications cabling system to accommodate the needs of both the occupant and the equipment that the occupant will use. Most of this information will be determined from input from the customer and site survey.
Codes, Standards and Regulations
We don't cut corners when it comes to installing your structured cabling system, we do it by the book. Building codes, standards and regulations govern the installation and handling practices and type of materials used by all designers and installers at The Brass Effect
We're Specialists in Structured Data Cabling, Fiber Optics, Access Controls and Camera Security Systems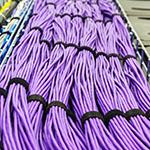 Copper Cabling
We install Cat 5e, Cat 6, Cat 6A, Cat7 and Cat 7A cabling in commercial establishments throughout Dallas, Ft. Worth, Plano, Frisco and Allen Texas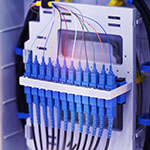 Optical Fiber Cabling
We install single mode and multi-mode Panduit and Corning optical fiber cabling. Optical fiber cabling is primarily used for backbone cabling with 62.5/125 and 50/125 micrometer being the most popular.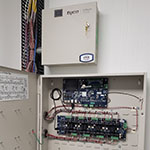 Access Control Cabling
Need to secure your office space by having controlled access to your space? We install Access Control Cabling and security cameras as well.
Give us a call today!
We guarantee our Structured Cabling Systems and look forward to serving you soon.